Here you'll find a selection of feature articles and profiles that have appeared in various Omaha-area magazines and newspapers.

This also will give you a look at more recent feature pieces I've written for The Reader. Also, check out Lazy-i for a selection of recently published features focused on national rock bands.

From The Reader:

From Lifestyles magazine:
Nancy Osborne
Herman Cain
Phil Sokolof
Tom Siekmann
Rockett
An Omaha Woman Cop's Story
From Nebraska Sports magazine:
Nebraska's football's Tommy Frasier
Copyright © 2005 Tim McMahan. All rights reserved.
Revised: January 2005 .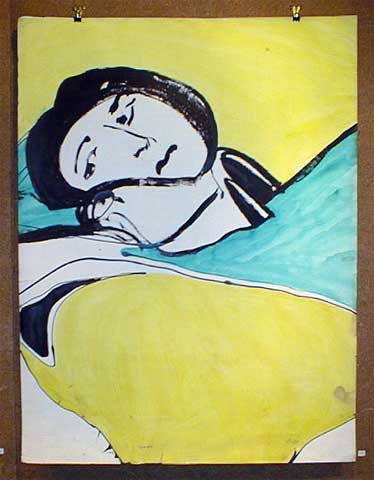 Bill Farmer: Portraits of Marge
by Tim McMahan
Bill Farmer walked slowly across the Antiquarium's top-floor art gallery -- named in his honor -- and looked at drawings and paintings of his wife made during one of the darkest times of her life.
There they are, on display for anyone to happen across on a warm Friday afternoon - drawings, paintings and images of a woman bent in pain and fear, clutching her head as if being dive-bombed by invisible bats. In some pieces, she looks merely tired, reclined in a bed or sleeping chair. In others, she's confused and afraid, surrounded by her ghosts.
"We were down in Mexico and Margie got hepatitis," Farmer explained. "She was in bed a lot, she didn't have much strength. So I had a perfect model."
It was 1966. The Farmers were living in Mexico City, where Margie had been given a job to start a school based on the Montessori methods. It was an innovative, individualistic approach toward education that had become a focus in her life after she became disenchanted with traditional education.